12 Awesome Themes for a Bachelorette Party
What can be the Best Theme for a Bachelorette Part?
Prepare a camping trip
Party with makeups and get some makeovers
Sing along with the bride
Prepare a replica of the bride's honeymoon
Join her in her to-do-list and make it happen
Make everything in the bride-to-be's place in her favorite color and enjoy a slumber party
Party at the poolside and relax in your bikinis
Party at the club
Conduct a tea party for her
Reminisce memories and enjoy a brunch full of laughter with the bride and the squad
Make her wish come true – prepare a Princess-themed party for the bride
Get the bride in an adventure, gather the squad and plan a road trip
While your sister or best friend is busy planning a wedding in Manila, the catering, the wedding venue, and other wedding plans are going to cloud her mind and stress her out. Why not help her to enjoy the days leading up to her special day? You can do this by planning a bachelorette party!
Whether you are on a budget or not, you can organize the perfect one for the bride. Pick one from these fun, smart ideas and gather your girlfriends for a bachelorette bash you will never forget!
Camping trip
What's not awesome about adventure? A camping trip is perfect when you ladies are on a budget but still want to have a great time. With just a tent or two, some sleeping bags, and a bonfire, you and your friends can enjoy a night filled with gossip and stories. While you enjoy talking, eat some sandwiches, grilled food, and the ever favorite s'mores to go with the camping mood. If you go with this plan, then be sure to prepare camping-themed games as well like scavenger hunts to add creativity and laughter.
At-Home Beauty Party
Sometimes, all any girl needs for a good time is a beauty party with her closest friends at home. Gather your girlfriends and tell them to bring their makeup, skincare, nail polishes, bathrobes, and flip flops and head on over to the bride's place. Give each other a makeover! You can even prank some of friends by giving them silly makeup and having a great laugh about it!
Who said you have to pay a lot for a spa when you can do it at home? An at-home beauty bachelorette party is a great way to give the bride a last day of child-like carefreeness before moving forward in her life.
Good ol' karaoke
Go plug in the microphone and speakers then let loose with a couple of the bride's favorite tunes all night. Who cares if you can't belt out to Whitney Houston's 'I Have Nothing'? As long as you and your girlfriends are having fun, nothing else matters. But make sure to alert the neighbors that you will be singing all night long to prevent furious yells at the front door telling you to shut up.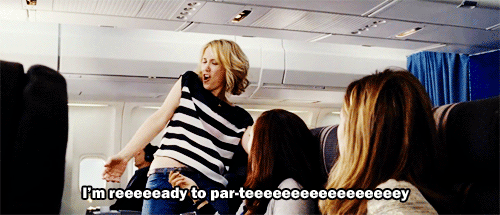 Honeymoon preparation
Surprise the bride by decorating her place to resemble where she and her soon-to-be husband will be having their honeymoon. As for gifts, make sure you and your friends get the goodies and outfits the bride and groom can use during her honeymoon. You can also amp things up by cooking food that the honeymooners will possibly experience during their stay at their destination.
The To-Do List
The bride may have a bucket list of things to do before getting married. However, sometimes, not all the items on the list would get crossed off before the special day. This could be because she's press for time while planning or she couldn't do those things with her fiancé.
Use this to your advantage and plan a bachelorette party when you and your girlfriends check those remaining things off together! Just make sure everyone is on board with what she requests. Who knows, the bride may be dying to go bungee jumping but one of your girlfriends has a fear of heights.
(Insert favorite color here) Slumber Party
If you would like something simple yet creative, then just hold a slumber party in the bride-to-be's place.  The big twist you can do to make it feel special is to make sure everything is in her favorite color! Change the carpet, curtains, pillowcases, bed sheets, tablecloths, and even the wallpaper in whatever color the bride loves. Then give the bride silly, cute gifts—and yes, in her favorite color as well.
Poolside Party
The bride may be looking for some vitamin sea and what better way to make this happen is to rent a unit at a hotel that has a cool pool scene. Make use of your beautiful bikinis, grab some good cocktails, and avail a spa treatment if possible! Definitely, this suggestion is one that everyone will enjoy and have the bride relaxed before her dream wedding.
A Bachelorette Club Party
If the bride's one to party, then reserve a table at her favorite club. Add spice to the night by dressing up in a themed attire or the most dance worthy outfits! But of course, where there is a club or bar, there is also alcohol. Thus, it's best not to have too much fun by drinking too much to avoid any unwanted troubles.
Tea Party
If the bride is particularly a tea lover and wants an elegant affair, then it's best to conduct a tea party for her. You can add finger sandwiches, scones, clotted cream, lace doilies, and various kinds of teas that everyone would love! What's convenient with this party theme is the fact that this kind of bachelorette party can be held in homes or a rented tearoom.
A Brunch Party
Not all bachelorette parties are held at night. Some can be during the day and no, it wouldn't be boring. You can gather the bride and your friends in your favorite brunch restaurant, eat your favorites, have fun conversations, and drink unlimited mimosas. Reserve this favorite of restaurant of yours immediately if you're going for this option. But you can also choose to host the brunch at your place – just add some flair to the drinks for a better experience. You can also make a good and memorable speech too!
'Princess-Themed' Party
Every girl wants to be a Princess at least once in her life. To make the bride's dream come true, why not plan a Princess-themed party? Collect some tiaras for everyone to wear along with their favorite dresses or, even better, have everyone dress up as their favorite Disney princess! Of course, get the bride the Royal Tiara that she deserves – before she becomes someone's queen, of course.
Road Trip
A bachelorette's party doesn't need to be that grand; especially if the bride is the kind who prefers something simple yet adventurous. Aside from a camping trip, you can do this by getting her and your friends to go on road trip.
Pack some snacks, prepare a song list for everyone to jam with, grab a map (in case), and hit the road! If you pass by a few tourist spots, then stop-by and capture some gorgeous pictures to record your memories!
Tip: To make it even more special, keep track of the places you're going to and write some quick notes – then give it to the bride at the end of trip.
Key Takeaway
Who said only guys have the right to hold bachelor parties? Ladies can also have fun on their last few days of singlehood. Don't be shy to experiment; it's the fun that counts.